Expert Water Well Drilling Services in Central Florida
Expert Water Well Drilling Services for Residential and Commercial Properties
Are you in need of a reliable water source for your home or business in Central Florida? Look no further! Our professional water well drilling services are here to provide you with a sustainable and long-lasting water supply.
Our team of experts has years of experience in the field and use state-of-the-art equipment to ensure the highest quality service. Don't let a lack of water hold you back, contact us today to learn more about our water well drilling options.
Benefits of Getting A Professional Water Well Drilling Service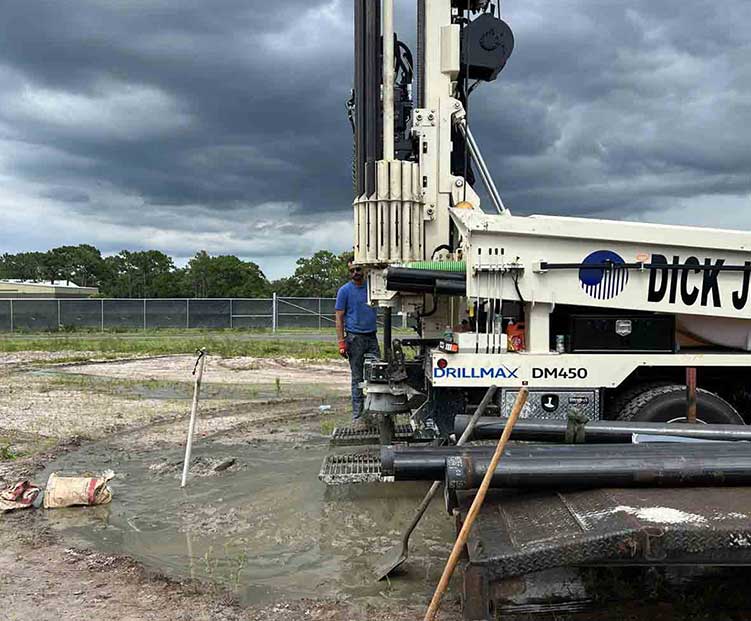 Are you considering getting a water well drilled on your property? Here are just a few of the many benefits that come with choosing a professional water well drilling service:
Cost-Effective: Having your own water well can save you money on your water bill in the long run.
Reliable Water Supply: A water well provides a steady and reliable water source, even during drought or water shortages.
Environmentally Friendly: Water wells use less energy and resources than municipal water systems, making them a more sustainable option.
Customizable: Water well drilling services can be tailored to your specific needs, whether you need a deep well or a certain water flow rate.
Increased Property Value: Having a water well can increase the value of your property, making it more attractive to potential buyers.
Independence: Having your own water well allows you to be independent from the municipal water supply, giving you more control over your water supply.
Quality Of Water: Well water is often considered as pure, clean and safe to drink, since it comes from underground aquifers.
Drill At Any Location: Water well drilling service can be done anywhere, even in remote locations where public water is not available.
We Offer Multiple Types Of Water Well Drill Services
We provide well drilling, pump, pressure tank, and water treatment systems installation and maintenance services for all Central Florida.
Testimonial
This company is run like a well oiled machine. I've done business with them on many occasions and every time their response has been excellent. Most recently, our... read more pressure switch failed after hours. Within 20 minutes I received a call back from Dennis to help troubleshoot my issue. We eventually had to schedule a service call to replace the switch and Dennis took care of us quickly and efficiently which was much needed as we were dealing with the aftermath of Irma. I highly recommend Dick Joyce!

Stephanie Levin


What an awesome experience we had with your company. You were quick to respond to our call. We couldn't have been more pleased with Ryan, the service tech.... read more He worked late into the evening and then was back the next morning to finish. Great service, awesome tech. Thank you Dick Joyce Well Drilling!

Dorothy Evans


The young man that came and called was excellent and very helpful. Justin explained how to check the well and provided clear guidance to insuring everything was in working order.... read more Great work.

Scott Bartle


These guys were recommended by another contractor i used, and i couldn't be happier with the service. After the service, i had a question about chlorinating my pipes, and the... read more tech suggested i call his coworker, Sam. Sam, who has never met me, has helped me through the process twice now (lost my notes after several months), and it just goes to show how seriously they take customer service. Highly recommend.

ben carrier


Been using these guys for the last 15 years. Always top notch, on time, and reasonable. If you don't know who to call, call Joyce, you will be impressed.

Mike Pinnock


Great company! The owners are extremely friendly and helpful. The workers work hard and check all your equipment. They don't try to haggle you around to make you buy products... read more that you do not need and I very much like that about this company. They also have best prices in town!

Ricci LaRae


Very reasonable prices, and great workers,very friendly staff,that's the only company I use

M Basila


Johnny on the spot!!! We needed to replace an old well with a new deep well (Complete System) at one of our rental property. After talking to three companies and... read more getting three different estimates, we decided to go with Dick Joyce Wells based on the Angie's List A+ rating & our personal research with friends and business associates. We are so glad we choose Joyce Wells! They were prompt and provided us with the "Best Price & Incredible Service"…let's hope durable product too! The whole process, from the initial visit to the final day of completion was smooth and professionally done. Everyone in the company is trained in their job and very courteous with customer. They delivered, what they promised in writing on the estimate…no hidden fees or extra charges. James explained everything over the phone and Technician Ryan was excellent explaining the total installation process on site with good tips about maintenance. Dick Joyce Wells have been around for a long-time and helping Central Florida with good standing.

Zack Hussain


Called in and James picked up the call, He was able to answer some pretty tough questions. Their price was in line, and completed when James said they would.... read more The pump has been supplying my two acre 17 zone sprinkler system flawlessly for 30 days now. I'm very happy with James and Dick Joyce Well company. Lee C. Longwood April 2018

Lucky Areveer


I got home last night to NO WATER:( I called Dick Joyce at 7am this morning, two nice young men showed up at 9am, problem solved by 10am! Very professional courteous... read more and resourceful!

Terry Owens


I highly recommend this company! Very knowledgeable and professional! We had a deep well installed at a fair price. Everything is working great!

Peggy Hughley


I could not be happier. When you do a project such as this, there are a lot a things that can and do happen. More the reason to have... read more a company that has the equipment, knowledge and experience to handle the job. Trust me...don't take a chance on your well drilling project with someone who will give you a lowball deal just to screw it up. Dick Joyce Well Drilling has been around for more than 35 years and has built a reputation to be proud of. They did an excellent job with our project. Their crew was punctual, courteous and highly professional. A very well organized company with great management.

Wm William


Thank god I found them. I had 2 companies come by and tell me that the pump is 100% dead and needs to be replaced at a cost of $1600... read more and one company was $1800 Dennis from Dick Joyce well drilling came by and with a simple test told me that a wire is shorted. It 1 hour and I had water again for under $500. Even if I had to change the pump they were still cheaper. The installer Dennis was professional and honest I highly recommend them.

PAUL KOREN